Hilarie Burton To Guest Star In A Kardashian-Like Role On Castle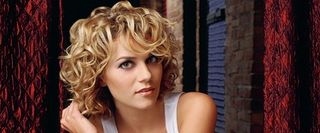 ABC's Castle will be seeing a visit from an ex-One Tree Hill star who will play a rather familiar sounding role. Hilarie Burton will join the cast as a reality TV star who has reached great heights of fame thanks in large part to her looks and bubbly personality. Sound like any recently divorced reality TV stars whose name starts with "K" you can think of?
Burton, according to TV Guide, will pop over to the set of Castle from her regular co-starring gig on White Collar, which is not shooting at the moment, to play the part. It will be a small One Tree Hill reunion as Tom Wright who directed for the CW series is directing the episode of Castle.
Burton will be playing Kay Cappuccio, who is described in the character bio as someone who is at the top of the Hollywood heap in spite of not "possessing any discernible skill or talent". Wait, does she also get married and then divorced after seventy-two days of giving marital bliss the old college try?
The clearly Kardashian-inspired character is said to be more complex beneath the surface than what meets the eye. Perhaps Kardashian matriarch, manager and head of damage control Kris Jenner had a chat with the writers to make sure the character doesn't come off as a completely useless but pretty socialite. Because it's not about Paris Hilton after all. We all know Kim Kardashian has yet undiscovered depths of talent and intelligence.
You can make your own call as to which famous solely for being famous star Burton's character most resembles when the episode of Castle airs in early 2012.
Your Daily Blend of Entertainment News
Thank you for signing up to CinemaBlend. You will receive a verification email shortly.
There was a problem. Please refresh the page and try again.