House's Hugh Laurie Near Deal To Play Blackbeard On NBC's Crossbones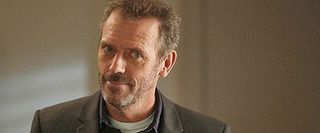 Dr. House could be coming back to television in a very different – although perhaps equally unpleasant – role. Word is that House star Hugh Laurie is close to a deal to star as the famous pirate Blackbeard in in the NBC series Crossbones.
After playing TV's least personable doctor for eight seasons on Fox's hit medical drama, it seems Laurie is ready to move on to something new. The Hollywood Reporter has word that the British actor, who put on an American accent for House, is nearing a deal to step into a pair of pirate boots. Crossbones, which has a 10-episode order for its first season, is based on the book The Republic of Pirates by Colin Woodard. It follows the story of Edward Teach – who would go down in history as Blackbeard – and his band of rogues. The series is set in 1715 on New Providence Island in the Bahamas, in a time when pirates rule the Caribbean. When assassin Tom Lowe is sent to put an end to the infamous leader of buccaneers, he finds himself instead drawn into the pirate life.
Hugh Laurie as a pirate is an interesting casting choice; certainly he's done well in the role of a character who is both unlikable and somehow attractive. Personally I think Laurie is a gifted actor I would be happy to see back on television, and I can see him making a great contrast to Johnny Depp's Captain Jack Sparrow in the realm of recent pirate portrayals. TV Blend will let you know if word comes down of an official deal for the role.
Your Daily Blend of Entertainment News
Thank you for signing up to CinemaBlend. You will receive a verification email shortly.
There was a problem. Please refresh the page and try again.