How To Get Away With Murder Review: A Frantic Pace And Viola Davis Are Reasons To Watch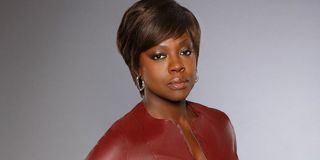 Workplace dramas have always been the easiest way for Shonda Rhimes and company to present a diverse and multi-faceted cast and enough intrigue to hurdle through the exhausting 22-episode schedule network television demands. This time around, former Scandal and Grey's Anatomy worker bee Peter Nowalk is helming How To Get Away With Murder (although Rhimes is still getting all the credit). Breakneck, preposterous and stylish, How To Get Away With Murder will instantly suck in viewers, but it doesn't leave much to linger over later on.
How To Get Away With Murder is more youthful than either Grey's Anatomy or Scandal, but especially the latter. It's a good thing, as ABC's new drama should have the capability to pull in both younger and older audiences, with a pulsing soundtrack and earnest young students holding the attention of the former and a madcap, emotive performance from Viola Davis earning viewers in the latter category.
We start at Philadelphia University during a campus-wide event. Drunken students are reveling around a bonfire, but not four law students. Wes Gibbons (Harry Potter alum Alfred Enoch), Michaela Pratt (Aja Naomi King), Laurel Castillo (Karla Souza) and Connor Walsh (Jack Falahee) are all trying to figure out how to cover up a murder they just committed, with about as much finesse as you'd expect.
Flashback a few months prior and the four kids are meeting each other on the first day of law school. I'm not sure what it says about the series that the setup is very Legally Blonde, with law professor Annalise Keating (Davis) terrorizing the new students before announcing a competitive internship. Luckily, there are no pink resumes in this introductory sequence, and the students are about as far from Elle Woods as you could imagine--sharp and instinctively predatory. Even the likeable goofball, Wes, is constantly looking for ways to beat the system and get ahead.
This isn't Rhimes and Nowalk's first rodeo. Line up this pilot against the other newbies this fall, and How To Get Away With Murder should be among the sharpest, catchiest and most fun. Frequent TV director Michael Offer was signed on to direct the pilot, and despite recently putting together a slew of slow-paced Longmire episodes, manages to crank out a go-go-go pilot that hustles through its first 43 minutes. There's room for plenty of character development and even a case-of-the-week style courtroom drama on top of the murder mystery, but the melodrama's stylish presentation doesn't leave enough room for the series to be thoughtful.
There are a few other missteps. The actual courtroom drama is mostly a snooze, used more as a device to show off the talents of the law school students than as a viable weekly format. Lawyer dramas like The Good Wife use the law as a way to look at the complexities of running a top-level firm in a large city, tying in to politics and moral ambiguities along the way. How To Get Away With Murder isn't as lofty or nuanced, but it's attempting to achieve a different goal, creating a highly entertaining drama that's all about pace and flair. In these two categories, ABC's new drama sticks the landing.
Say what you will about Rhimes and her characters, they shine brighter than real people. They take risks and get themselves into totally ridiculous scenarios. They spit out dialogue that most of us might only think about when reliving a conversation inside our heads, after the fact. They are bold and they are savvy, and this time around, they may very well get away with murder.
Rating:
You can tune in to find out when ABC's How To Get Away With Murder premieres on Thursday, September 25 at 10 p.m. ET. Check out the rest of the fall schedule, here.
Your Daily Blend of Entertainment News
Reality TV fan with a pinch of Disney fairy dust thrown in. Theme park junkie. If you've created a rom-com I've probably watched it.