How James Corden Was Roped Into Late Night When His Career Was Taking Off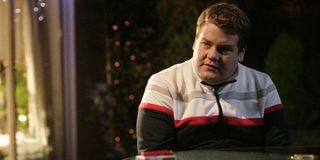 James Corden is not a household name…yet. The British actor that has been tapped to take the mantle of Late Late Show host recently discussed just what convinced him to make the leap into late night. Just as his day job of acting was taking off, Corden got the nod as one of the frontrunners to take over for Craig Ferguson in the cushy 12:30 late night slot on CBS. But just what exactly convinced him to take the offer seriously?
With his acting career starting to flourish and a cushy role in the Christmas tentpole film Into the Woods, you would think that late night was the last thing on the actors mind. According To Deadline, Cordon may not have initially taken the job if it wasn't for the email he received from Walt Disney Studios chairman Alan Horn.
Corden will be the youngest of the late night hosts and is thus feeling the pressure to bring a young and hip feeling to his vision of the show. Corden believes that the new show should be "a party every night", especially since it will be filming in Los Angeles and have a slight advantage in booking guests. Corden has already received well wishes and phone calls from late night staples like Jimmy Fallon and Stephen Colbert who advised not to beat himself up for the six months should things go sour at the get go. Still, for Corden, it all comes back to that phone call from Horn.
Sometimes it just takes that extra push and it appears that Mr. Horn was "The Godfather" to Corden in making his final decision to dip his toes in the late night waters. Outgoing host Craig Ferguson has established a fierce fan base over the past decade and Corden hopes to build upon that when his show debuts on March 9th of 2015.
Your Daily Blend of Entertainment News
Thank you for signing up to CinemaBlend. You will receive a verification email shortly.
There was a problem. Please refresh the page and try again.