How Quantico Is Quietly Turning Into A Huge Hit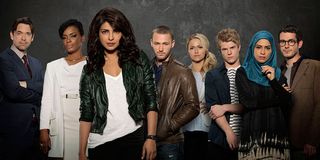 We all know that DVR is seeing greater gains this fall than in previous years. A lot of people have switched over to the platform to watch TV how they want it, when they want it. Ratings this fall have listed big gains for longtime popular shows like The Big Bang Theory and The Walking Dead and some new shows, including Supergirl and Blindspot, have also been touted as having pretty big ratings. But underneath all of these shiny numbers, there's one show that is quietly cleaning up: ABC's Quantico.
Recent Live+7 results indicate that Quantico is the top show in terms of gains from delayed viewings. This doesn't mean that it has the highest overall numbers of the season. And this doesn't mean it's particularly striking in live numbers. However, as The Wrap notes, it does mean that a lot of people who watch the show are not doing so when Quantico airs on Sunday nights. In recent weeks, Quantico has only been beaten out in DVR ratings once, by an episode of The Blacklist.
Just a couple of weeks ago, we wrote a story listing the 14 shows that are nabbing huge gains on DVR. Among them are a few of the shows we listed in the first paragraph. In addition, shows like Criminal Minds, Once Upon A Time, Black-ish and Gotham, Limitless, Scandal and more are also seeing big DVR increases. While a lot of those shows increase their audiences by +40% in the 7 days following, Quantico is special. A recent Season 1 episode of the drama, for instance, only did a 1.2 rating when it aired on Sunday night. However, an additional 1.6 rating was calculated the week later for a 2.8 rating overall. That's a 133% increase over the live airing. The most recent episode that has results available actually grew 138%,. Basically, the show is quietly turning into a huge hit, but it's not getting a lot of attention on Sunday night.
There could be plenty of reasons for this, but the most obvious conclusion to jump to is that Sunday night TV is super saturated. There's football, of course, but the networks also have their own blocks. Plus, subscription cable networks often have big Sunday nights and plenty of cable channels have their own intriguing programming, including AMC, which is home to The Walking Dead and The Talking Dead, also on Sunday nights. People can't possibly watch all of these shows live.
If you haven't given Quantico a watch—on Sunday or otherwise—you can catch the thriller on ABC on Sunday nights at 10 p.m. ET, with the midseason finale airing on December 13. Or, you know, on your DVR whenever. The show's a serialized drama, so we suggest starting from the beginning, but it should be easy-ish to jump right in. In addition, here's when programs are returning for midseason.
Reality TV fan with a pinch of Disney fairy dust thrown in. Theme park junkie. If you've created a rom-com I've probably watched it.
Your Daily Blend of Entertainment News
Thank you for signing up to CinemaBlend. You will receive a verification email shortly.
There was a problem. Please refresh the page and try again.