How The Vampire Diaries Will Handle A Major Cast Member Leaving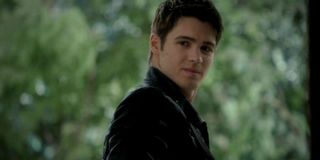 The Vampire Diaries has no problem killing off major players in the series, especially in the earlier seasons. But, lately, the CW's vampire drama has been a bit more hesitant, killing off, and then bringing characters back to life. There's never a guarantee people are dead, when they supposedly die. So as a series regular gets ready to say his goodbyes, Vampire Diaries had to make an important decision about his departure. Steven R. McQueen who portrays the all-grown-up, vampire-hunting little brother, Jeremy Gilbert, will be exiting the TV drama, but thankfully (if only Elana's sanity), the character will not be killed off.
*There are a few spoilers ahead, so if you are not caught up on the current season of The Vampire Diaries, read at your own risk.
McQueen has portrayed Jeremy Gilbert since the launch of the show in 2009. He's had his ups and downs, dying and being brought back to life, falling in love with vampires and one particularly important witch, becoming a beefed-up Vampire Hunter, and just overall being exposed to a world that as a human he has never quite fit in with. But, as Jeremy got older, and the relationship between him and Bonnie blossomed, his role went beyond being Elena's little brother. He has become a key character, and his departure from the series will be a serious moment. The Hollywood Reporter confirms his exit and executive producer of the series, Julie Plec told them it wouldn't be a typical death departure:
Jeremy has had a difficult life, with yes, too much pain for the average person. And The Vampire Diaries took it so far last season, that Bonnie is no longer in the picture, at least in the human world. So once again, Jeremy experienced real loss, and the past few seasons he has been an absolute mess, dealing with Bonnie as the Anchor and getting her back for a short while, until she dies, and leaves him for good. The only reason Jeremy is even alive was because Bonnie somewhat sacrificed herself. There's no way The Vampire Diaries could kill Jeremy off right now, that would be far too cruel, and a little redundant. But he clearly needs a major life change, and needs to leave Mystic Falls.
Saying goodbye to the brooding and a bit depressing Jeremy will still be hard. He has become an important character, and even if he hasn't been around much in the past season, we will still miss him dearly. But, there's no reason to be too upset, since Jeremy will still be alive, and Plec admits he could always come back for important events. We can't wait to see what is in store for his 'fresh new life — with a twist'.
Your Daily Blend of Entertainment News
Thank you for signing up to CinemaBlend. You will receive a verification email shortly.
There was a problem. Please refresh the page and try again.