How The Walking Dead Season 6 Finale Did In The Ratings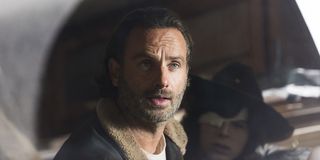 There was a lot of anticipation heading into The Walking Dead's Season 6 finale. Much of this anticipation came from the introduction of Jeffrey Dean Morgan as the long-awaited villain Negan, who had been teased in several of the episodes prior. Despite the anticipation surrounding the episode, The Walking Dead in some ways underperformed, as it was down in the ratings from last year's finale. Here's how the big episode did overall.
Let's start with the good news, because good news is always better than bad news. Finales are often among the highest-rated episodes of any given season, and in that way, The Walking Dead's Season 6 finale didn't disappoint. The episode brought in 14.2 million total viewers, with 8.8 of that large chunk being viewers between the ages of 18 and 49. Because such a large chunk was in the advertising demo, this led The Walking Dead episode to earn a whopping 6.9 rating, which is nothing to sniff at. It's also numbers that are higher than another other episode this season except the premiere, which did a wee bit better in the ratings.
However, Deadline is noting that compared to last year's Season 5 finale, the April 3, 2016 episode was down in the ratings. Last year, 15.8 million total viewers tuned in to catch the season ender that featured Rick killing Pete and Morgan returning. This year's episode arguably ended on a wilder note, with the aforementioned introduction to Negan and a cliffhanger ending that will keep people talking until Season 7 returns this fall. Although the Season 6 finale was arguably more explosive than the Season 5 finale, fewer people tuned in.
So what can we take from this? Obviously, The Walking Dead is still crushing most of its competition on television. However, it's no longer crushing compared to the numbers the show brought in for a couple of seasons during the middle of its run—at least not in Live+ Same Day numbers.
The Walking Dead has honestly had a pretty weird trajectory in terms of its ratings. The first season did good but not great for cable, bringing in a tidy 4 or 5 million per episode. By the time Season 2 hit the airwaves, however, the zombie drama had earned a bigger following, with nearly nine million total viewers choosing to tune in for the Season 2 finale. Season 3, 4 and 5 saw the series continue to grow massively in live viewership each week—which is rare for any TV show these days, much less a cable series. This season is the first time The Walking Dead has seen its numbers fall rather than stay steady or even improve. It's a trend that is likely to continue as more people cut cable and even larger numbers of people watch programs days or even weeks after they air. That doesn't mean The Walking Dead is going anywhere, anytime soon. Far from it, actually, as the series has already been renewed for Season 7 and filming is going to start soon. However, the heyday of the series looks to have already happened.
Reality TV fan with a pinch of Disney fairy dust thrown in. Theme park junkie. If you've created a rom-com I've probably watched it.
Your Daily Blend of Entertainment News
Thank you for signing up to CinemaBlend. You will receive a verification email shortly.
There was a problem. Please refresh the page and try again.