Will The Hulkster Run Wild on American Gladiators?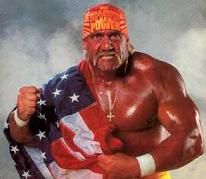 "You know what would be totally awesome? If Hulk Hogan was on American Gladiators, that would totally rock!"
If you had asked the 15-year-old version of me the question, "What would be the best TV show ever?," the answer would have been some variation of the above. And thanks to NBC, the sports-entertainment version of "you got peanut butter in my chocolate" may come true.
According to TVweek.com, Hulk Hogan has signed on to host NBC's new version of American Gladiators, which the network announced last month.
Sources are saying that the combination of Hogan's in-ring athleticism from his days in the WWE and the likeability he showed on his VH-1 reality show, Hogan Knows Best, make him a great fit for the revival of the cheese-erific 1990s show. NBC had no official comment about the hiring of Hogan.
The new American Gladiators will combine the best of the old show (everyday guys going up against physically dominating "athletes") new, more "reality" friendly aspects (more backstories about the contestants as they train). Recent a casting call went out for contestants in cities like Miami, Las Vegas, Chicago, and Brooklyn, NY.
The big question is will Hulkamania run wild at the Gladiator Arena (that's what they're calling it) or will Hogan just be behind the mike? If he's just the host, I hope he wears the tuxedo with the sleeves ripped off like he did in the old WWF days.
Your Daily Blend of Entertainment News
Thank you for signing up to CinemaBlend. You will receive a verification email shortly.
There was a problem. Please refresh the page and try again.