It's Happening Again For Josh Lucas In NBC's The Firm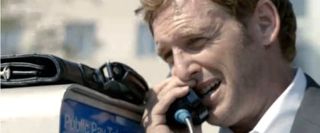 One of the shows that may have flown under the radar with the recent NBC mid-schedule announcement was The Firm. It's not the new legal drama's fault that Community fans would instantly realize their show was absent and therefore steal the new series' thunder (as well as the thunder of any/all of the other mid-season premieres). Yep. NBC really shot itself it the foot there, but at least they have The Firm to help cover everything up.
It never hurts when a series is based on a pre-existing popular property -- in this case, across two mediums -- that is associated with two giant stars in their respective fields. Of course, I am referring to author John Grisham (a rare literary household name) and actor Tom Cruise. The 1998 film came out pretty much in Maverick's prime, and both it and the book were big hits. The new show won't have Tom Cruise, but it does have a pretty great cast as well as the participation and blessing of Grisham.
The cast includes Josh Lucas taking over the Mitchell McDeere role made famous by Tom Cruise, with Molly Parker playing his wife Abby. Other notable actors in the series include Tricia Helfer, Callum Keith Rennie, and the great Juliette Lewis. Too bad there's no Hal Holbrook, I love that guy. I originally thought that the series was simply remaking the novel/film and extending the story to last over a few seasons (if they're lucky enough to last past the initial, but confident, 22-episode order), however, it is a full-on sequel taking place a decade after the previous story. Just when Mitch thought he was out, they pulled him back in...take a look.
The Firm debuts with a two-hour premiere on Sunday, January 8th, 2012, at 9 p.m. ET on NBC. It will then air regularly on Thursdays at 10 p.m. ET starting January 12th.
Official synopsis from NBC:
Your Daily Blend of Entertainment News
Thank you for signing up to CinemaBlend. You will receive a verification email shortly.
There was a problem. Please refresh the page and try again.