J. Lo Drama Pilot The Fosters Casts Teri Polo And Sherri Saum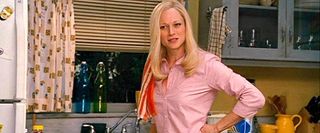 The Jennifer Lopez-produced pilot for The Fosters has cast two of the lead roles. Teri Polo, who appeared in the short-lived series Man Up! last year, has been cast along with Sherri Saum, whose recent TV credits include CSI: NY and Body of Proof. The two will play a mixed-race lesbian couple who take in a troubled teen.
The Fosters pilot, which his being produced for ABC Family follows the lives of Stef and Lena Foster, played by Polo and Saum respectively according to Deadline. They are raising a biological child as well as several children they've adopted. When they take in a girl with a sad past involving abuse, the struggling teen threatens the stability of their lives. The drama project would take on any number of potentially controversial topics. I can already see the watchdog organizations sharpening their claws. A lesbian mixed-race couple raising kids? This one has an attack by One Million Moms (the same group that went after The New Normal demanding a boycott) written all over it. ABC Family has repeatedly been lauded by GLAAD for its portrayal of gay and lesbian characters in a positive light, and this project seems to be another step in that direction for the network.
The pilot is currently in the early stages of development and still has some casting to do, including the role of Callie, the teenager who throws the lives of the two main characters into disarray. This sort of drama seems to be right up ABC Family's alley these days, and has a pretty good chance at success with their audience.
Your Daily Blend of Entertainment News