James Patterson's Novel Series Private Is Being Adapted For Television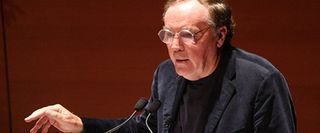 Bestselling author James Patterson is set to bring his Private novel series to television as an hour-long drama project. He's working with Sonar Entertainment and has Black Swan writer John McLaughlin on board to adapt his work for the small screen. Patterson will be behind the scenes as a producer on the project.
Deadline says that Patterson, who has written 220 books (that's more than 3 times what Stephen King has published) that have sold millions of copies worldwide to the tune of over $3 billion in gross sales, is teaming up his company, James Patterson Entertainment, with Sonar for the project. Patterson holds the record for most #1 books on the New York Times bestseller list with 43.
Private follows the story of Jack Morgan, a former CIA agent who now heads a powerful private investigation firm. A team of investigators under his watch use whatever means necessary, including force, forensics, and top tools to uncover secrets and solve mysteries. Of course, they are an elite team who dig into the secrets of the rich and powerful and do so with the utmost discretion and undoubtedly with more than a little danger involved. The series of books seems perfectly suited to television. Says Patterson of the project:
Patterson's name alone may be all that is needed to bring this project to television; certainly he's already got a big following sure to tune it to check out a series based on his work. He's already transitioned his work successfully to the big screen, and will likely have success on television as well.
Your Daily Blend of Entertainment News
Your Daily Blend of Entertainment News
Thank you for signing up to CinemaBlend. You will receive a verification email shortly.
There was a problem. Please refresh the page and try again.