Jane Kaczmarek Is Headed To The Middle In Season 4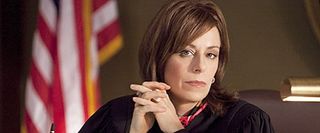 The Middle will be receiving a visit from one of TV's all-time toughest moms. Malcolm in the Middle matriarch Jane Kaczmarek is set to face off with Patricia Heaton in a guest role on the upcoming fourth season of ABC's comedy.
According to THR, Jane Kaczmarek will appear as a teacher at Frankie's (Patricia Heaton's) career college, where the two will butt heads. Both actresses have played TV moms I'd personally be afraid to cross, so seeing them go up against each other should be amusing, to say the least. It looks like a single-episode gig for Kaczmarek, who has been doing a number of guest appearances on comedies lately.
Kaczmarek is a seven-time Emmy nominee for her role on Malcolm - and frankly it's a crime that she never took home the statue – so it's no surprise she's in demand. Most recently she did an arc on Whitney and last year, she also appeared on Wilfred. Since Malcolm came to an end the actress has tried her hand at drama in Raising the Bar, which only aired for a couple of seasons. She's an actress I would like to see return in a regular comedy role, but for now we'll have to accept guest spots. So far there are no details on when we can expect to see Kaczmarek's episode, but The Middle should be getting into gear, soon.
The Middle is set to premiere its fourth season tonight at 8 p.m. ET. The hour-long episode premiere should be a special treat for fans of the normally half-hour comedy. Next week, the show will go back to its regular half-hour format as a lead-in for ABC's new comedy The Neighbors.
Your Daily Blend of Entertainment News