Jane Kaczmarek Joins Cast Of New NBC Comedy Whitney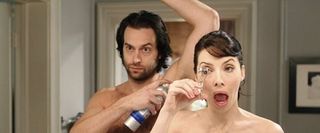 Jane Kaczmarek, who brought to life perhaps the most overworked, exhausted and yet completely indomitable mother in television history, providing me with my personal hero for motherhood, is returning to television in a recurring role. Deadline reports that the seven-time Emmy nominated actress for Malcolm in the Middle will be playing a mother on the small screen again on the NBC comedy Whitney, premiering this fall.
Kaczmarek will step into the role after scenes had already been shot with Beverly D'Angelo playing the lead character's mother; the scenes will be re-shot. Initially, NBC intended to have D'Angelo stay in the pilot as a guest star but would not have her return as a recurring character. There's no word as to why NBC declined to bring D'Angelo on for a recurring role but decided to offer the spot to Kaczmarek.
The sitcom follows comedienne Whitney Cummings of Chelsea Lately in the lead role and her boyfriend played by Chris D'Elia as they try to keep the romance alive and refuse to get married. Kaczmarek will play Whitney's frank and opinionated mother, who has been through several marriages and might just be the reason Whitney doesn't want to walk down the aisle. Also joining the cast are Zoe Lister-Jones, Maulik Pancholy and Dan O'Brien.
Kaczmarek has a real gift for creating memorable female characters with strong personalities; no doubt she will bring that gift to the role in Whitney. Certainly her name will bring in a new viewing segment this series might not otherwise have seen.
Whitney will premiere Thursday, September 22nd at 9:30/8:30c on NBC.
Your Daily Blend of Entertainment News
Thank you for signing up to CinemaBlend. You will receive a verification email shortly.
There was a problem. Please refresh the page and try again.