Jason Lee To Guest Star On NBC's Up All Night As A Single Dad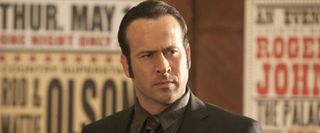 For years, I was a faithful My Name is Earl viewer, up until NBC canceled Greg Garcia's program in a hasty move that left viewers stranded without knowing the true identity of Joy's second child's baby daddy. I'm still not over it, and although I can't seem to get enough of Jason Lee, I'm not an overly huge fan of cop dramas. I now must content myself with loving it when Jason Lee guest stars on random comedies I watch. Last year, the actor showed up on the set of Greg Garcia's latest program, Raising Hope, playing Smokey Daniels, a musician who is as full of himself as he is past his prime. Lee's newest guest starring role will return him to NBC as a love interest on Up All Night.
Up All Night is in its first season on NBC. The program features Chris (Will Arnett) and Reagan (Christina Applegate) as new parents trying to fit a baby into their regular activities, including a rigorous workload and avid social life. Lee's appearance on the program won't exactly follow this plot-line. According to EW, Lee is on board to play a single dad who will become a love interest for Ava (Maya Rudolph). His character will first appear in November and could become recurring if all goes well.
Hopefully, all balls will land in the right pockets. Lee is currently hanging out in TV limbo while waiting to hear from TNT about whether or not his current series, Memphis Beat, will be renewed for a third season.
Up All Night airs Wednesdays at 8 p.m. ET. If you haven't caught it, check out our preview.