Jeopardy's Ken Jennings Is Headed To A New Game Show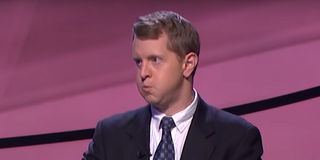 Game shows don't often find all-stars in their midst; that's simply not the point of them. The entire concept of the game show genre is to give average people the opportunity to win obscene sums of money or make fools of themselves in the process. However, Jeopardy struck gold in 2004 with the insane winning streak of trivia champion Ken Jennings. He made television history with his unprecedented number of Jeopardy wins, and now he's headed back to TV in an attempt to do the same on another game show.
Yes, Jeopardy champion Ken Jennings will make an appearance on the Season 2 premiere of ABC's 500 Questions, according to TVLine. For those of you unfamiliar with the show, 500 Questions revolves around a single contestant presented with (you guessed it) 500 general trivia questions over the course of a single episode. If they get three incorrect answers in succession, the show eliminates them from the show. If anyone has a shot at performing well in the upcoming season of 500 Questions, it's most certainly Ken Jennings. Winning 74 consecutive games of the Alex Trebek-hosted series in 2004, he set a record for the NBC game show and took home roughly $2.5 million during his reign. That being said, it remains to be seen if his knack for the rapid-fire nature of NBC's Jeopardy will translate well to the longer, more endurance-oriented format of ABC's 500 Questions.
It was almost heartbreaking when Ken Jennings found out during episode 75 of his winning streak that all good things must come to an end. Check out the video of him finally losing to another Jeopardy contestant below:
Of course, this isn't Ken Jennings' first public appearance since he absolutely dominated the Jeopardy stage. In the years since he set that record, he has gone on to appear on numerous other television shows and game shows like Who Wants To Be A Millionaire? His name has become synonymous with useless-outside-of-game-shows knowledge of trivial facts - there's at least one trivia book devoted to him - and he seems to be enjoying himself quite a bit.
I think it's safe to say that 500 Questions just firmly got our attention for its season premiere. Ken Jennings proved himself a genuine force to be reckoned with during his time on Jeopardy, and we can see if he still has what it takes to win when the second season of 500 Questions premieres on Thursday, May 26 on ABC. We wish you the best of luck, Mr. Jennings – although it's not like you need the money or anything.
To see when everything else is premiering in the coming months, check out our summer TV schedule.
Originally from Connecticut, Conner grew up in San Diego and graduated from Chapman University in 2014. He now lives in Los Angeles working in and around the entertainment industry and can mostly be found binging horror movies and chugging coffee.
Your Daily Blend of Entertainment News
Thank you for signing up to CinemaBlend. You will receive a verification email shortly.
There was a problem. Please refresh the page and try again.