Watch This Contestant's Terribly Awkward Jeopardy Fail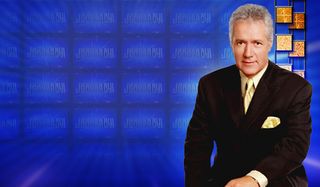 Jeopardy! has had a lengthy run on network television, and in that time, contestants have flubbed numerous times. Most of these flubs are not newsworthy, but occasionally something so awkward or so wild does happen on the air that it needs to be discussed immediately. One of those moments happened on Friday, and if you didn't watch the episode, you can check out the awkward segment, below.
During a recent episode, things seemed to be going smoothly when Alex Trebek pulled a zinger out of his back pocket. The question was, as follows:
Anyone with a lick of sense or who at least has taken a middle school sex education class should have been able to come up with the answer "puberty" in just a few seconds, but creepy contestant Tom's mind happened to go to a much weirder place. He quickly buzzed in and answered "age of consent" to Trebek's query. Yeah, as in the age in which it is considered legal for young men and women to consent to having intercourse. This totally brings more meaning to the "hide yo kids" lyric in the "Bed Intruder Song."
Seriously though, one would hope that Tom just wasn't thinking clearly when he blurted out "age of consent" during the round. Contestants don't have a lot of time between when the question is read by Trebek and when they have to provide an answer. Not only is there a lot of pressure to be the first to answer on the series, but it seems as if it would be easy to slip up. Still, guessing "age of consent" when the age of 12 is thrown out there is particularly bad, even if the contestant simply misspoke.
This TV season, we've seen a few other memorable moments on Jeopardy!, including kids failing at math during a Common Core round and one particularly poor game played by three contestants. We've also seen some unsettling stuff on Jeopardy, including the relatively sexist "What Women Want" category. Overall though, Jeopardy! has been just as fun and entertaining as usual.
If you are a fan of the long-running series, Jeopardy! announced big news just a few weeks ago. Although it was only a few months ago that Alex Trebek threatened to quit, the man has now signed on with the long-running competition series for quit a bit longer. He'll still be around through the 2017-2018 season, mustache or no. Let's just hope he doesn't have to deal with too many more on-air snafus during his tenure.
Your Daily Blend of Entertainment News
Reality TV fan with a pinch of Disney fairy dust thrown in. Theme park junkie. If you've created a rom-com I've probably watched it.
Your Daily Blend of Entertainment News
Thank you for signing up to CinemaBlend. You will receive a verification email shortly.
There was a problem. Please refresh the page and try again.