Jimmy Kimmel Live's Movie: The Movie Trailer Stars Clooney, Hanks, Streep, Damon And More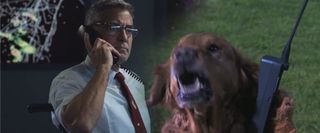 Last night was the 84th Annual Academy Awards on ABC. There were some statues handed out and this made people, both in attendance and at home, either very happy or not so much. After the hit and miss big ceremony, hosted by Billy Crystal, came the now annual post-Oscars Jimmy Kimmel Live special also, not so coincidentally, on ABC. And this year was especially special because Kimmel got the chance to premiere the trailer for his upcoming movie, Movie: The Movie starring just about every actor you could imagine, including several Academy Award winners and nominees.
The short is an absolute epic, cameo filled trailer spoof. It's like what the Freidberg and Seltzer movies wished they were. And if they could net A-list stars to participate in the parodic fun. Some of the actors that Kimmel managed to assemble is pretty incredible, like Meryl Streep rocking a mustache or Tom Hanks playing some kind of robo-lawyer (there's five Oscar wins between the pair).
I also thoroughly enjoyed the fact that they spoofed the recent rise in dog characters (like last night's Best Picture winner The Artist) by first having Colin Farrell and a canine kick an explosive field goal before pairing a pooch with George Clooney to fight Gabourey Sidibe's meteor-riding black Hitler. That's a Golden Globe winner, an Oscar winner and another Academy Award nominee all included in a sentence I definitely never thought I'd write.
And even with all that craziness, there is still no topping Matt Damon in the grape suit. The moment he finds out that he'll likely be cut from Movie: The Movie is priceless (and an obvious callback to the endless times Kimmel has 'bumped' him at the end of a show because there isn't enough time... a recurring gag that, of course, led to these gems). At least we know not everyone at the Oscars takes it or themselves too seriously. Jimmy Kimmel Live airs every night at 12 a.m. ET on ABC.
Watch the "Oprah" sketch from last night's episode here.
Your Daily Blend of Entertainment News
Your Daily Blend of Entertainment News
Thank you for signing up to CinemaBlend. You will receive a verification email shortly.
There was a problem. Please refresh the page and try again.