Jimmy Kimmel Live Video: More Parents Give Kids Bad Gifts For Christmas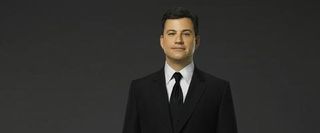 Last month, the Jimmy Kimmel Live video featuring kids receiving disappointing Christmas presents went viral, which apparently resulted in more parents pulling the same prank on their kids. Last night, Kimmel presented a follow-up "Part 2" to the segment, which you can watch ahead.
The original video aired on ABC's Jimmy Kimmel Live last December and featured the reactions of children as they opened what they thought was an early Christmas gift, only to find something like a half-eaten sandwich, a rotten banana or a girl's toy (given to a boy). Naturally, most kids reacted unfavorably. The airing of the video went on to become a viral hit, which apparently inspired even more parents to see how their own kids would react to such a joke. Kimmel showed it during last night's episode and you can watch it below...
Is it all in fun or just cruel? I'll leave that to you to decide...
Jimmy Kimmel Live airs weeknights at 12 a.m. ET on ABC.
Your Daily Blend of Entertainment News
Thank you for signing up to CinemaBlend. You will receive a verification email shortly.
There was a problem. Please refresh the page and try again.