Joanna Coles Dishes On Project Runway: All Star's Season 2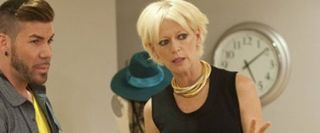 Project Runway's initial All Stars season was a bit of a shock. Not only was Tim Gunn not on board to mentor, but the regular lineup of hosts and judges was out, as well. In time, mentor and magazine fashionista Joanna Coles endeared herself to audiences, and now with a second Project Runway: All Stars season being produced at Bravo, Coles is ready to dish challenges, changes, and why she doesn't roll with catchphrases.
The mentor recently spoke with THR about this season's biggest and strangest tasks. Coles says one challenge will involve Paris, another will feature graffiti prominently, and a third will jump on the environmentally friendly trend. While it's exciting to hear about some of this season's trendier challenges, Coles says there are some more important things happening in the workroom this year. The contestants are more focused, and the room itself has been far more calm (Which is probably good. Remember last year's super strange powwow when Jerrell accused Michael of stealing his coat look?).
It also means the goofy, happy-go-lucky moments in the trailer are a little misleading. THR is also noting the final five rarely even stopped working to hang out or speak with one another. The competition is tough this season, and things are going to get intense.
Coles also says she has tried to make a clear distinction between her role and that of the extremely popular Tim Gunn. In order to do this, she's avoided catch phrases and the like. I think it's interesting that's she's tried to make such a notable difference between herself and the man who essentially has her same role. Sure, Coles is a little less likeable that Gunn, but they both have the whole "I'm reserved, but I'm trying to make an effort" thing going on. Maybe following in Gunn's shoes wouldn't be the worst thing, after all.
Lifetime's Project Runway: All Stars airs Thursdays at 9 p.m. ET.
Amazing Race & Top Chef superfan with a pinch of Disney fairy dust thrown in. If you've created a rom-com I've probably watched it.
Your Daily Blend of Entertainment News
Thank you for signing up to CinemaBlend. You will receive a verification email shortly.
There was a problem. Please refresh the page and try again.