Kardashian Khristmas Scrapped, Kourtney And Kim Will Take New York Sunday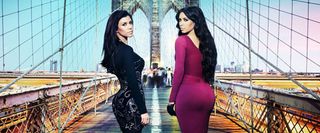 People's current hate towards the Kardashian's post middle daughter Kim's divorce to Kris Humphries may have finally come to a head. With rumors abounding the family is not getting along over the incident and many people still feeling a little lied to, E! has scrapped plans for the Kardashian holiday special. Of course, there could be many reasons The Kardashian Khristmas is being scrapped.
E! is stating there were scheduling conflicts between the various family members. It is true there are a boatload of Kardashians who need to be on the same page and in the same place to film these things –there's Kris and Bruce, Khloe and Kourtney, Kim, Rob and the two half siblings, the baby, and sometimes Scott or Lamar. According to Daily Mail, Kim's divorce was really what made The Kardashian Khristmas an implausibility.
If you are still caught in the muckrake of Kim's divorce and want to see what the she gets into next, E! still has plans to move forward with Kourtney & Kim Take New York. Set in New York, the show will spend some time following the early days of Kim's marriage. Kourtney & Kim Take New York has already wrapped up filming and is set to premiere on November 27. For the sake of goodwill and cheer in the holiday season, here's to hoping no more in-fighting in the Kardashian family comes to light. I'm not holding my breath.
You can check out the preview, below.
Your Daily Blend of Entertainment News