Kathy Bates' American Horror Story Character Will Be Worse Than Misery's Annie Wilkes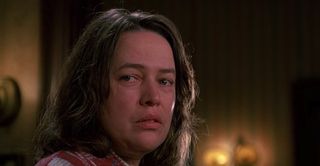 If you've seen Kathy Bates in her Oscar-winning role as Annie Wilkes in Misery, you know the actor knows how to tap into her dark side. From the sound of it, that experience will prove especially useful to her in her American Horror Story role. We learned previously that Bates was signing on for a role in the series' anticipated third season. The latest update on that front suggests that her character is not the nicest person. In fact, she's "bad."
Very vague spoilers ahead!
Following word that Bates would be among the newcomers joining the veteran cast members for the third season of FX's horror drama American Horror Story, TVLine got some updates from series creator Ryan Murphy on the role. We already knew that Bates' character would be a friend-turned-enemy to Jessica Lange's character. The idea of seeing these two actors squaring off on screen is reason enough to look forward to Season 3, but from what Murphy says, "Her [character] is a bad, bad woman!" How bad, you ask? Murphy says "five times worse than [her] Misery character - which is why she liked it."
Murphy revealed that Bates' "mouth was drop-jawed" because what he was pitching to her was based on a true event. Of course, no further details on that were mentioned, but he describes it as "some good stuff." Bates is apparently a fan of the show, and from the sound of it, she didn't need much time to decide that this role was for her.
What's worse than a character who holds the author of her favorite book series captive and forces him to write the perfect sequel, as Bates' Misery character did? It's hard to imagine. What's not hard to imagine is Bates playing someone scary. She showed us her dark side in Misery and that's an image many of us won't soon forget. It's going to be very exciting to get to meet her new character.