Keith Carradine On Board For New TNT Western Gateway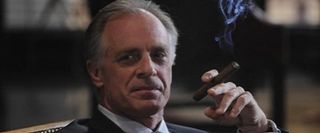 Keith Carradine is the latest addition to the new TNT western series Gateway; the actor will join the cast for the pilot. The series has already cast Cam Gigandet in one of the lead roles, Carradine will up the star power of the show quite a bit. One of a family of well known actors, Carradine is not new to westerns or to television; his face and name are well known enough to give this series a boost in interest.
In addition to a recent guest role on The Big Bang Theory, Carradine has spent plenty of time in front of television audiences in recent years. He had a repeat guest role as Frank Lundy on Dexter and earned some Western credentials as Wild Bill Hickok on Deadwood. He also has a few western films to his credit, including the recent sci-fi western Cowboys & Aliens, Wild Bill and the 1980 film The Long Riders where he starred alongside his brothers David Carradine and Robert Carradine.
Set in 1880's Colorado,Gateway will tell the story of three brothers, the son of a murdered sheriff who step up to the defense of their town which shares its name with the series. Carradine won't be one of the three however according to Deadline, but has been tapped to play a worn down homesteader who finds himself pushed into becoming a surrogate father to the three sons of the dead sheriff. It's too bad this series wasn't made a few years ago, when the Carradine brothers were younger and David was still alive; TNT could have had three brothers playing their three brothers.
Your Daily Blend of Entertainment News
Thank you for signing up to CinemaBlend. You will receive a verification email shortly.
There was a problem. Please refresh the page and try again.