Ken Burns To Direct HBO Mini-Series About Boxer Jack Johnson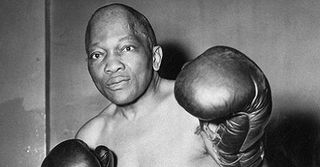 HBO is hopping into the boxing ring with a mini-series that will tell the story of Jack Johnson, the first African-American to take the world heavyweight championship. And they have some heavyweights on board to make it happen, including documentary guru Ken Burns who will direct and executive produce and Playtone's Tom Hanks and Gary Goetzman, also executive producing.
Deadline says the story would be based on the book Unforgiveable Blackness: The Rise and Fall of Jack Johnson by Geoffrey C. Ward, and they plan to tell the story in a four-to-six part mini-series. In addition to Burns and Playtone, Ides of March writer and House of Cards executive producer Beau Willimon is attached to write the mini and will also co-executive produce. For Ken Burns, this is the second time taking on the story of Jack Johnson; he put together a documentary about the boxer for PBS that earned him an Emmy.
Jack Johnson shook up the world of boxing in the early 20th Century, taking on white champions – those who would even fight him – and winning. He also shocked society by marrying two white women, found himself the target of racism that landed him a jail term, and eventually fled to Europe by way of Canada. The story was told in The Great White Hope starring James Earl Jones. The role in HBO's new mini would be a big one for any African-American actor; the casting on this one if it goes forward will be interesting to see.
Your Daily Blend of Entertainment News
Thank you for signing up to CinemaBlend. You will receive a verification email shortly.
There was a problem. Please refresh the page and try again.