Ken Marino's Burning Love Is Headed To E! Next Month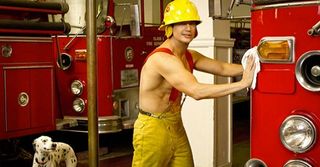 E! is bringing Burning Love, Ken Marino's parody of a dating show, off the web and onto television next month. The web series is getting ready to premiere its second season online only a week before it will make the jump to television – with Season 1 set to begin airing on E! on February 25th.
The web series follows Party Down actor Marino's character Mark Orlando, a 34-year-old firefighter who is on the hunt for the love of his life. EW says they plan to air it as a series of 7 half-hour episodes. The first season of the show, executive produced by Ben Stiller, featured a number of well-known stars including Marino's former The State co-star Michael Ian Black, his Childrens Hospital co-star Malin Akerman, and his former Veronica Mars co-star Kristen Bell. It also saw guest appearances from stars like Jennifer Aniston, Christine Taylor, and Ben Stiller himself.
The second season is set to follow the same basic plot as the first, but instead of following Mark's search for love it will feature the love life of one of the women he encountered in Season 1. The new season hits the web on February 14th, Valentine's Day of course. In addition to some familiar faces from the first season, Jerry O'Connell, Michael Cera and Adam Brody are among the guest stars lined up for Season 2, promising another slew of famous faces. If you haven't seen Season 1 yet, you might want to catch it on E! before you move on to the new season.
You can tune in to Burning Love on E! starting Monday, February 25th at 10 p.m. EST.
Your Daily Blend of Entertainment News