Kevin Smith Puts On His Heroes Tights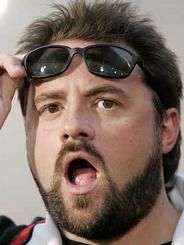 Last week's San Diego Comic-Con was full of tiny news bombs, but nothing that truly blew minds. Except maybe that Iron Man footage which has "mysteriously" become more difficult to find. One bit of geek news that surprised me – in a good way – was Tim Kring announcing Kevin Smith as writer and director of the one of the "Origins" episodes of 'Heroes." The actors themselves seemed genuinely surprised by the announcement.
A few weeks ago when Smith talked about watching the entire series over the course of a day with his wife I thought how great it would be if he jumped on board with an episode. Most recently he directed the pilot for CW's upcoming supernatural series 'Reaper' and the guy could always use another project. What better way than to give him near free reign to do some cool shit in the 'Heroes' universe? I'm looking forward to a hero with the power to hold lengthy, pop culture imbued dialogues with multiple enemies. Smith may be ready to broaden his storytelling horizons with some hot manlove instead. During the panel he joked that he mentioned to series creator Tim Kring that he'd love to do something with "the two gay heroes." Smith is referring to fan favorite team Hiro and Ando, who now that Smith mentions it do have a conveniently tight bond.
Smith left fans assured that he's taking things serious with his episode. "It's going to be fun, but I just don't want to be the guy who ruins 'Heroes. I'd hate to sign onto the Internet after my episode airs and they're like, 'They jumped the shark…Clerks guy ruined it." Yeah so, 'Heroes' fans can begin trembling at what shenanigans Smith might get up to. Me, I've already got the episode programmed into my TiVo – which has future recording hero power.
Staff Writer at CinemaBlend.
Your Daily Blend of Entertainment News
Thank you for signing up to CinemaBlend. You will receive a verification email shortly.
There was a problem. Please refresh the page and try again.