New Kids On The Block's Joey McIntyre And One More Join The McCarthys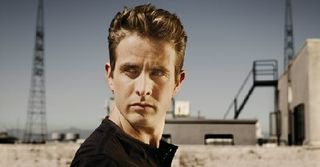 Another New Kids On The Block member could be headed for CBS. Boy Band member Joey McIntyre has joined the network's comedy pilot The McCarthys. If the project goes forward he would join former bandmate Donnie Whalberg at the network, as the latter currently stars in Blue Bloods. Additionally, UK comedienne Jessica Chaffin has also been brought on board for the pilot.
The McCarthys focuses on a large Irish family of crazed sports fans living in (where else?) Boston, whose gay son is trying to get away from the fold--much to their disappointment. Deadline says McIntyre will be playing one of the sons in the family, Gerard, who happens to be shorter than the rest and isn't happy about it. Jessica Chaffin, of the UK comedy series Ronna & Beverly, will play his sister Jackie, a woman with a personality that swings between extreme confidence and insecurity. They will join a cast that already includes Jacki Weaver, Jake Lacy, and Jack McGee. Is anyone else noticing an odd name trend in the cast?
McIntyre's last had a regular series gig on Boston Public, but has guest starred on several shows including 90210. On the big screen he is currently starring in The Heat with Sandra Bullock and Melissa McCarthy. Chaffin has also guested on multiple shows, including an arc on The United States of Tara.
The McCarthys is a single-camera comedy pilot that will be directed by Fred Savage and executive produced by Will Gluck. While the stereotype of an Irish family in Boston is an old and overdone one, there may still be some life in the project, given the right twist and the right cast. We'll have to see if The McCarthys can pull those two caveats off.
Your Daily Blend of Entertainment News