Kimmel's Back In The New Year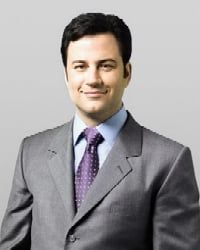 You can officially add Jimmy Kimmel to the list of late night hosts who are returning to television in the New Year. Along with Conan O'Brien and Jay Leno, Kimmel's show, Jimmy Kimmel Live, will resume airing new episodes on January 2. Fellow hosts David Letterman and Craig Ferguson may return as well.
Like the other returning hosts, Kimmel will be doing his show sans writers. All scripted material will be cut, leaving a program heavy in ad-libbing and interviews. According to Variety , Letterman is still trying to work out a deal with the WGA that would allow both his show and The Late Late Show with Craig Ferguson to return on January 2 with their writing staffs intact. When we originally reported on Letterman's plan, it looked like a sure bet. Now, however, it seems to be a long shot. While Letterman's Worldwide Pants owns both The Late Show and The Late Late Show, CBS still owns the new media rights to both programs—a central issue in the WGA's case.
Whether Letterman works out a deal with the WGA or not, it looks like all of the late night shows will be resuming the same night. This is in contrast to the writers strike of 1988, during which Johnny Carson returned first, with the other hosts trickling in behind him. When the strike began, many speculated that Letterman would be the first back, as he has been on the air the longest. This time around, Carson Daly was the first host back on the air, much to the WGA's chagrin.
All of the hosts have been paying their non-writing staffs out of their own pockets since the strike began. This isn't too surprising when you consider the deep pockets and WGA memberships of David Letterman and Jay Leno, but given the fact that Kimmel's bank account is mostly padded with paychecks from The Man Show, his willingness to keep his staff afloat is that much more admirable.
However, none of the hosts can afford to continue like this forever. In a statement, Kimmel, like the other hosts, cited his non-writing staff as his reason for returning to air before the end of the strike: "Though it makes me sick to do so without my writers, there are more than a hundred people whose financial well-being depends on our show. It is time to go back to work. I support my colleagues and friends in the WGA completely and hope this ends both fairly and soon." While financial strain is forcing the hosts back on the air, it's clear their allegiance still lies with the writers. I'm excited for the shows to come back just to see how much of the ad-libbing involves biting the corporate hands that feed them.
Your Daily Blend of Entertainment News
Your Daily Blend of Entertainment News
Thank you for signing up to CinemaBlend. You will receive a verification email shortly.
There was a problem. Please refresh the page and try again.