Kurtzman, Orci And Spielberg Bringing Graphic Novel Locke And Key To TV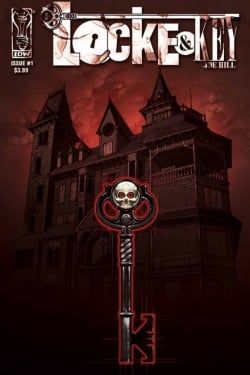 When we reported back in February that super-producers Alex Kurztman and Roberto Orci were trying to snag the rights to Joe Hill's graphic novel Locke & Key, we assumed that they were aiming to turn it into a movie, because that's what everyone does with graphic novels these days. But given how badly adaptations of non-tentpole graphic novels have fared at the box office (think Jonah Hex and Scott PIlgrim instead of Batman and Spider-Man), it might be time to start coming up with new ways to bring those graphic novels to life. So how about television instead?
Vulture is reporting that Kurtzman and Orci will be teaming up with none other than Steven Spielberg to turn Locke & Key into a major TV franchise, following the story of three kids living in a New England mansion with doors that transport them to new worlds and given them superpowers. Josh Friedman, an executive producer on The Sarah Connor Chronicles and the writer of Spielberg's War of the Worlds is on board to write and produce the show, with Kurtzman, Orci and SPielberg presumably on board as executive producers-- because, as you may have heard, they've also got a bunch of other stuff on their plate.
Watch the trailer for the comic book below to get a brief taste of what you're in for. Kurtzman and Orci have been basically the only people to successfully cash in on the serialized sci-fi trend that Lost kicked off with Fringe, so this may very well be their chance to do it again.
Your Daily Blend of Entertainment News
Staff Writer at CinemaBlend