Last Man Standing Replaces Showrunner And Actress Alexandra Krosney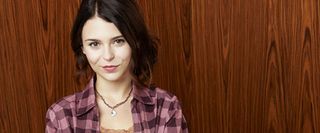 ABC's Last Man Standing was in pretty good standing at the end of its first season on the network, averaging around 9 million viewers an episode. As it turns out, despite a plotline that seems to have won over many viewers, those on top felt some changes needed to be made before a second season hits the popular network.
Last Man Standing has decided to replace its showrunner, as well as one of its important cast members before Season 2 airs. The showrunner thing likely needed to happen, as Kevin Abbott temporarily stepped in for Jack Burditt as head honcho in the middle of last season. According to Deadline, veteran producer Tim Doyle will take over during Season 2. Other big changes for the show are on the horizon, as well. Alexandra Krosney, who play single mom and eldest daughter on the program, has been let go from the comedy series due to "creative reasons." TV Line first reported the news, also stating the role will be recast before the fall.
Since the little Baxter still presumably needs a parent, I'm really glad the show decided not to kill off the character. Although we don't know exactly why they decided not to stick with the young actress for Season 2, the three daughters on Last Man Standing are pretty cookie cutter types, so it should be easy to replace Krosney with someone who will capably fill the mommy/waitress' shoes. TV Blend will keep you posted on the upcoming casting news.
Your Daily Blend of Entertainment News
Thank you for signing up to CinemaBlend. You will receive a verification email shortly.
There was a problem. Please refresh the page and try again.