Last Resort's Jay Hernandez Joins Fox's Gang Related Pilot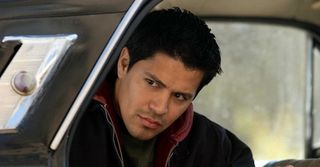 Fox's Gang Related has added to its cast, and this time around Last Resort's Jay Hernandez, who has had some trouble finding success on TV over the past few years and has to be hoping things go better this time around. Hernandez will join Ramon Rodriguez in the drama pilot.
Gang Related, as the name implies, surrounds Ryan Lopez (Rodriguez) a gang member who, in a bit of a role reversal from what can usually be expected from this sort of plotline, has been sent to go undercover in the San Francisco Police Department where he joins the Gang Task Force. He has to balance his life in the department with the hidden truth of his loyalty to the gang that placed him there. Deadline says Hernandez's character will be a close friend to Lopez. Not only will Hernandaz's character, Dante Acosta, be a best friend to Ryan, he'll also be the son of gang lord Javier Acosta.
In addition to the failed Last Resort, Hernandez also appeared in the pilot for Trooper alongside Mira Sorvino. That one didn't work out either in spite of attempts by two networks. Some of the actor's previous attempts at a successful TV series have also failed, including Sis Degrees, which only filmed one season. On the big screen Hernandez appeared in the Miley Cyrus movie LOL as well as the action flick Takers with Chris Brown and Matt Dillon. He has also done his share of horror movies, including Quarantine and Hostel.
Gang Related is written by Chris Morgan (The Troop) and directed by Allen Hughes (Touching Evil). Also cast in the pilot so far is Underemployed's Inbar Lavi.
Your Daily Blend of Entertainment News
Your Daily Blend of Entertainment News
Thank you for signing up to CinemaBlend. You will receive a verification email shortly.
There was a problem. Please refresh the page and try again.