Laurie Metcalf, Niecy Nash, and Alex Borstein Join HBO Pilot Getting On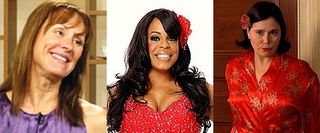 HBO's new medical comedy pilot Getting On has added three familiar faces to the cast. Roseanne's Laurie Metcalf, MadTV star Alex Borstein, and Reno 911's Niecy Nash have all been tapped for roles on the pilot, making for an impressive lineup of experience female comedians.
The project, which comes from Big Love's creators Mark V. Olsen and Will Scheffer, is an adaptation of the well-received British series of the same name. The half hour show is about a team of medical professionals working in the women's geriatric ward of a hospital. Laurie Metcalf, best remembered as Roseanne's sister on Roseanne, will be playing Dr. Jenna James, who is the overworked temporary Director of Medicine at the hospital while also working a second job at another hospital at the same time. She's describe as an "odd duck" who doesn't have much in the way of social skills, according to the TV Line report .
Alex Borstein, who provides mutiple voices most notably that of Lois Griffin on Family Guy, will be playing the head ward nurse, Dawn Forchette, a woman who is both kindhearted and lacking in self-esteem, with the result that she winds up in some awkward and inappropriate sexual situations. Niecy Nash, who provides her voice to another Seth MacFarlane animated series, American Dad, will take on the role of Marta Ortley, a practical nurse with a big heart who finds herself back on the job she had left behind after the real estate market crashes. All three of the ladies seem well suited to the roles they've been cast in, and they're all excellent and very funny actresses. It looks to me like HBO could have another winner on their hands.
Your Daily Blend of Entertainment News
Thank you for signing up to CinemaBlend. You will receive a verification email shortly.
There was a problem. Please refresh the page and try again.