Law & Order's Renewal May Be Up To TNT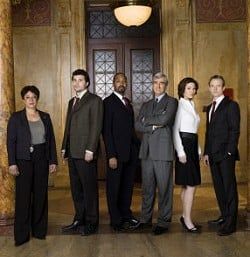 TNT may hold the power over whether or not NBC's venerable Law & Order series breaks the record for longest drama series in television history. At 20 seasons, Law & Order isn't the ratings powerhouse it once was, which means NBC counts, in part, on syndication fees from TNT to subsidize the cost of the series.
Reruns of Law & Order have been very successful for TNT, as reported by MSNBC, but they are under no legal obligation to pick up additional seasons beyond the current 20th. They also have the power to prevent NBC from taking their offer for future seasons to any other network, which essentially gives them veto power on a 21st season.
With the show performing respectably on Friday nights, NBC seems keen on allowing the venerable main series in the expansive L&O franchise achieve the new record, which must make it frustrating that the power may lie with one of their rerun syndicators.
Luckily, primetime entertainment president of TNT Angela Bromstad in January said, "I wouldn't want to be responsible for not having 'Law & Order' break the record." Of course, in the end it will probably all come down to the economics of the situation. TNT lost a lot of money when Without a Trace faded quickly in first-run ratings, hurting the power of those TNT repeats.
Still, do you really want to be the one responsible for keeping the series from breaking a record it's been looking to conquer for a few years now?
Your Daily Blend of Entertainment News
Your Daily Blend of Entertainment News
Thank you for signing up to CinemaBlend. You will receive a verification email shortly.
There was a problem. Please refresh the page and try again.