Law And Order Saves Us From Reality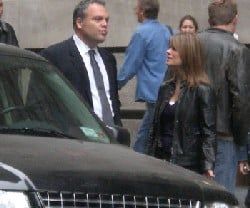 As you are all painfully aware, we are starting to run out of original programming. Heroes aired its season finale last night after only nine episodes, Grey's Anatomy only has two left, and shows like The Office have already been gone for weeks. Luckily, in addition to the glut of game shows and reality programming that the networks are going to be rolling out in the coming months, there will still be some new scripted offerings.
NBC recently announced that Lipstick Jungle, a new series based on the Candace Bushnell book by the same name and starring Brooke Shields, will be replacing ER on Thursday nights when it runs out of new episodes. In addition, Reuters is reporting that an old favorite is making a comeback. Law & Order is returning for its 18th(!) season with a two-hour premiere on January 2nd.
After being on the air for nearly two decades, many fans started to take the ever-present procedural for granted. Low ratings led to a time-slot change in 2006 and almost ended in cancellation. Now, NBC is trying to capitalize on the lack of scripted competition by giving L&O its original Wednesday night at 10 pm slot. NBC is also bringing in Law & Order: Criminal Intent as its 9 pm lead-in. New episodes of Criminal Intent's seventh season have already been airing on NBC's sister channel, USA.
Along with its new timeslot, Law & Order is bringing on two new cast members. Jeremy Sisto plays new detective Cyrus Lupo, while Linus Roache will be playing executive ADA Michael Cutter. Both actors did time last season on NBC's short-lived drama, Kidnapped. Criminal Intent also has a new cast member this season. Alica Witt is filling in for Julianne Nicholson as Detective Logan's (Chris Noth) partner, while Nicholson is on maternity leave.
I'm a Law & Order junkie, but even I have let the original iteration fall by the wayside for the past few years. This is a great chance for the series to get many of its wandering fans back as well as hook a whole new generation. People who may not have followed Criminal Intent over to USA will also get an opportunity to catch up. As much as I hate the writers strike, I'm never going to argue with a world in which Vincent D'Onofrio is on my television more often.
Your Daily Blend of Entertainment News
Your Daily Blend of Entertainment News
Thank you for signing up to CinemaBlend. You will receive a verification email shortly.
There was a problem. Please refresh the page and try again.