At Least This Many Sons Of Anarchy Characters Will Die In The Final Season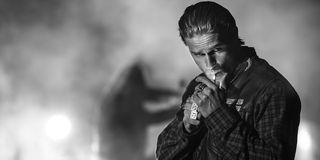 How many people will die during the final season of Sons of Anarchy? From the sound of it, murder and mayhem are on the menu for Season 7 of the FX biker drama. But how many club members will die before season's end? Not as many as you might guess, but that doesn't mean they won't be shocking or that the overall death toll won't be high.
This article contains spoilers from the first six seasons of Sons of Anarchy, so if you're not caught up, prepare to be spoiled!
EW says Kurt Sutter confirms that "Two club members will be dead" by the end of the series, adding "I don't think there'll be more than that." Two seems like such a low number, but take into account Clay and Piney. Or Half-sack and Opie. Or any pair of the other club members who have died in past seasons and factor in the shock and grief that their deaths caused. Two starts to sound like a lot, doesn't it? Will it be Jax and Juice (assuming Juice still counts as Club)? Or Bobby and Tig? Maybe Chibs and Happy. There are plenty of combinations we could suggest, and given the level of violence in this series, not to mention the fact that it's ending and really, anything is possible. EW also notes that Sutter is getting started on writing Episode 9 of the 13-episode final season, so it's possible the number will change.
What's also worth taking into account are the words "club members." Meaning, there are non-club members whose deaths would technically not count among the "two" mentioned deaths. Gemma, Unser, Nero, Wendy and other non-Club members could be among the seasons casualties as well. So Sutter's comment doesn't ensure that no more than two main characters will die, just that two club members will be among the casualties.
On to less morbid topics related to Sons of Anarchy, we know that the FX series will return for Season 7 on September 9, and -- thanks to EW -- we now know that the series will wrap up its final episode on Tuesday, December 2. That just so happens to be the exact date that The Strain is available on DVD/Blu-ray. So it's a big day for FX. The day after Sons of Anarchy wraps up, a Sons of Anarchy "Collector's Edition" book will be released. Amazon already has it available for pre-order with the following description:
Finally, we have some great black-and-white character photos for Season 7. Check those out in the gallery below. And watch the Season 7 preview here.
Image 1 of 9
Image 2 of 9
Image 3 of 9
Image 4 of 9
Image 5 of 9
Image 6 of 9
Image 7 of 9
Image 8 of 9
Image 9 of 9