Life Unexpected, One Tree Hill And Two New Dramas For The CW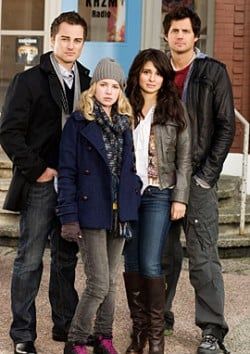 In a surprise move to many, The CW has picked up both One Tree Hill and Life Unexpected for the new season. It was widely considered that the network was deciding between the two shows. Benefits of keeping the long-running OTH was its strong ratings growth seen this season.
But Life Unexpected showed a lot of creative strength, which the network noticed. They also see a lot of potential in the future of the series, according to Deadline. More importantly, or more likely a reason the network was able to renew both, Life is a much cheaper show to produce than OTH. That means, The CW can afford a little patience to see if it starts to click more with their target young female audience.
In other news regarding the new season, the network has reportedly also picked up their revamping of the long-running USA series La Femme Nikita, shortening the title to just Nikita, and the coming of age college drama Hellcats. Here's what the network says about both series.
You can find more on the 2010-2011 television season HERE!
Your Daily Blend of Entertainment News
Your Daily Blend of Entertainment News
Thank you for signing up to CinemaBlend. You will receive a verification email shortly.
There was a problem. Please refresh the page and try again.