Lost Girl Renewed For Season 4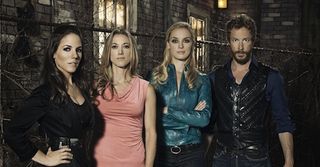 There's good news today for those who are hooked on the Syfy series Lost Girl. The network has just handed down a renewal, ordering thirteen episodes for a fourth season, which will air in 2014.
Lost Girl is currently in the middle of airing Season 3 and is expected to wrap up in April. The Canadian-based series is one of the many supernatural dramas that are popular on TV today. The story centers on Bo, a succubus who feeds off of the energy of humans, an activity that sometimes has fatal results. She is a renegade against the supernatural hierarchy, and is searching for her roots all while learning how to control her power and use it to help others. Anna Silk (Being Erica) stars in the role of Bo, while Kris Holden-Ried (The Tudors) plays werewolf love interest. Dyson. In addition, Ksenia Solo (Black Swan) stars as Bo's human friend Kenzi and Richard Howland and Zoie Palmer round out the cast.
Season 3 has been posting good ratings at Syfy. Deadline says the show has been averaging 1.3 million viewers, and comes up as the number one cable drama in its timeslot for the adults 18-40 and 25-54 demos (averaging 676,000 viewers and 721,000 in the demos, respectively). The show was created by M.A. Lovretta, who produced the CW's The Secret Circle, and first premiered on Showcase in Canada in September of 2010. Syfy picked it up and premiered Season 1 in the U.S. a year later.
Your Daily Blend of Entertainment News