Louie Watch: Season 3, Episode 13 - New Year's Eve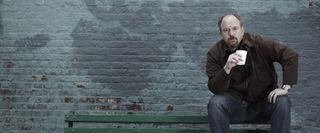 Louie closes out a roller coaster of a third season with its best episode since Parker Posey's tour de force performance early in the season.
The episode's opening act is one of the best C.K. has ever put together as he takes us through the nightmares of being a parent at Christmas time. The episode has to go down as one of the best TV Christmas specials to ever be made, even if it was incredibly cynical. Cynicism aside, the segment was hilarious as it flashed back between the opening of the presents and the hell Louie had to go through to make those presents happen. The sequence of Louie destroying and repairing the American Girl doll was particularly comedic gold as I was belly laughing from start to finish. Louie pissing on the doll head was also a particular highlight for me. The honesty of the segment surely rang true for many parents out there, but I can't imagine any of them being able to salvage that American Girl doll like Louie does.
The episode's second act falls more in line with the episode's title as Louie's sister, Amy Poehler, calls him up and invites him to Mexico to spend the holiday with her family. Red Staters all the way, Louie seems hesitant to hang with his extended family, but an odd dream of his grown up daughters feeling sorry for their sad, pathetic father gets him to the airport. Parker Posey's Liz magically shows up on the bus ride to the airport and you think the episode is going to take a dramatically happy turn for the lonely Louie. You would have been wrong. Liz's cancer is back and she is dead within minutes of coming on screen. Louie is stunned, but C.K. pulls out one of the blackest comedic moments the show has yet to deliver in Louie's walk through a celebrating New Year's hospital party directly after Liz's brutal passing, dark stuff. I really doubted C.K.'s heart at this point as he seems to be punishing Louie for god knows what reason. It has been a relentless assault on Louie's happiness this season.
Louie still heads to JFK after Liz's passing, but instead of heading to Mexico Louie heads to China after a children's book he bought his daughter Jane seems to have inspired him to seek out the Yangtze River. The river is underwhelming, but the people are very welcoming and we leave Louie at the end of this season on a pretty happy and peaceful note in rural China. C.K. has now taken his show around the world in the last two seasons and while this trip to China is less successful as a piece of television than the Afghanistan one, it is oddly peaceful nonetheless. Louie has been through a lot this season and this Chinese excursion felt like a fine ending for him that will allow C.K. to possibly reset the character's psyche next season.
The show seemed to be creatively muddled from time to time this season, but the season's high points, Posey's big episode and this week's Christmas sequence, rank up there with the best of anything put on television. Louiegot less funny this year, more experimental and C.K. really seemed to be working through a lot of ideas. I still enjoyed the show quite a bit, but the season has to rank third of three as a whole. Still, I am excited for season 4 and this season will most likely always own the greatest episode in the show's history. Louie remains one of the sharpest shows on TV, but I do hope it has a bit of a bounce back next season.
Fun thoughts:
-Is this some no Late Show depression?
-All that hard work torn to smithereens.
-Three eyes?
-"Shit on my father's balls."
-That might be the best Christmas episode of any show I have ever seen.
-Amy Poehler!
-"That left wing airport," what does that even mean?
-What are those names of the news anchors?
-Why does Louie dream his daughters so spacey?
-Poor old dream Louie.
-Parker Posey! WTF?
-"Bye?"
-Well that was a dark turn.
-Louiehas now gone around the world twice on his show. Not many can say that.
Your Daily Blend of Entertainment News