Lucy Liu Joins CBS' Sherlock Holmes Pilot Elementary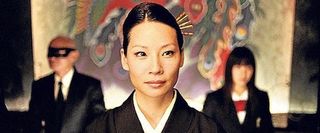 While I know I'm not alone in having major reservations about the Sherlock Holmes pilot in the works for CBS, it's difficult not to be intrigued by the cast being assembled for the project. So, for argument's sake, let's put aside the fact that BBC already has a top-notch modern-day take on Sherlock Holmes with Sherlock, and take a look at this intriguing bit of casting news.
Among the pilots in the works for CBS is Elementary, a modern-day take on Sherlock Holmes, set in New York City. We learned previously that Jonny Lee Miller was cast to play Holmes, which suggests that the character will remain British, despite the fact that he's set up on the other side of the pond. In an intriguing twist, Deadline reports that the role of Watson will be played by a woman. Lucy Liu (Kill Bill, Ally McBeal) has been brought on board to play the part of Watson, a former surgeon who lost her license and now does consulting work with the NYPD. The character is also described as a live-in "sober companion" to Holmes, who is fresh out of rehab and living in Brooklyn.
A female Watson is certainly a note-worthy development and - much in the way the setting might - could prove to help differentiate this project from BBC One's Sherlock, should it go to series. Regardless of whether some (or many) are put off by the idea of a remake that's not being classified as a remake with Elementary, the concept and the noteworthy cast do add to the project's potential, especially assuming there's a procedural element tied into the format of the series, which could make this a good fit for CBS.