Mad Men Season 7 Premiere Ratings Drop Drastically From Last Year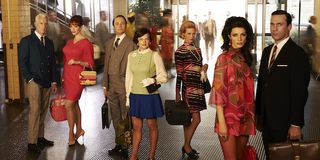 Mad Men returned for the start of the first half of its seventh and final season last night, and the ratings weren't good. In fact, the series' Season 7 premiere was down more than a million viewers by comparison to the 3.4 million who tuned in for the Season 6 premiere last Spring.
Deadline reported Mad Men's premiere numbers, noting that the 2.3 million viewers that tuned in for last night's premiere falls just ahead of the 2.06 million who tuned in for the Season 2 premiere back in July of 2008. On premiere numbers alone, the series' viewership inched down a bit last year as well, falling from 3.5 million viewers for Season 5 in 2012 to 3.4 million viewers for Season 6's premiere in 2013. Obviously, this year's drop is much more noticeable. So what happened?
The new season was -- in Deadline's words -- widely promoted, but how effective were those promotions? It's no secret that Mad Men holds most of its cards pretty close to the vest when teasing its new seasons and episodes. For example, here are a couple of promotional videos for Season 7 that were posted online last week...
Both videos tease the series in a general way, relying on viewers' interest being piqued by what they remember about the show without actually revealing much of anything about what's coming up. In that sense, they're more reminders than they are teases. That's a strategy that's worked fine for Mad Men in the past, but maybe fine isn't enough, especially when we consider the competition the AMC drama was up against last night.
We might argue that HBO's Game of Thrones had a lot of people's attention last night, which could have affected Mad Men's performance. GoT airs at 9:00 p.m., in the hour slot before Mad Men. Still, it is worth noting that -- via Deadline -- the Game of Thrones took in 6.3 million viewers. It's possible that at least some of those viewers were too stunned by the shocking (more or less) ending of "The Lion and the Rose" to change the channel to watch Mad Men immediately after. Airing directly against Mad Men at HBO was Silicon Valley, which took in 1.7 million viewers, down a bit from its series premiere last Sunday.
Mad Men's premiere was also up against new episodes of CBS' The Mentalist, ABC's Revenge and NBC's Crisis, which may have played a factor in the AMC series' struggling numbers.
It'll be interesting to see how Mad Men performs in the weeks ahead.