The Major Sacrifice One Agents Of S.H.I.E.L.D. Character Just Made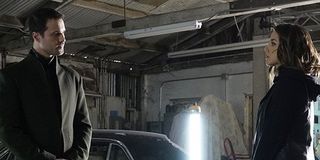 Warning: spoilers for last night's Agents of S.H.I.E.L.D. are ahead!
Three weeks ago in the Agents of S.H.I.E.L.D. episode "The Team," Daisy Johnson, a.k.a. Quake, was infected by Hive, his parasites turning her into one of his loyal subjects. Since then, she's been working alongside the villainous Inhuman, and S.H.I.E.L.D.'s attempts to snap her back to normal haven't worked. In the midst of tying into Captain America: Civil War, last night's episode, "Emancipation," continued this storyline, and by the end, Daisy was finally free of Hive's control, but only because one key character from this season paid the ultimate price.
It all began when Lincoln, still being kept in his room after the events of last week's episode, decided he wanted to see Daisy away from both S.H.I.E.L.D. and Hive. Fortunately for him, Daisy had hacked into S.H.I.E.L.D.'s computer system (while giving a lot of her blood for Hive's experiment, no less), and when she overheard him talking about her via one of the speakers in the room, she got in contact with him. After catching up, Daisy promised to help him escape so they could reunite. Thanks to her keeping watch via the S.H.I.E.L.D. base's surveillance, Lincoln was able to escape from the base and seize one of the planes to go see her…or at least that's how it looked.
Even though Lincoln is still desperate to see Daisy, he knew that Hive's control over her would lead to her betraying him, so he secretly formulated a plan with Melinda May and Phil Coulson to trick Daisy into thinking he was coming to her. So who was really on the plane? It was Lash, a.k.a. Dr. Andrew Garner in his permanent, monstrous Inhuman form (or as Talbot called him, "Rasta-Hulk") who S.H.I.E.L.D. had been keeping imprisoned. If you've been watching this season, you know that Lash kills Inhumans he deems unworthy. Hive was no exception, and thanks to S.H.I.E.L.D. setting him free, Lash was finally able to resume his mission. Upon realizing he'd been tricked, Hive immediately tried to take control of Lash, but the latter's energy powers prevented the parasites from entering his system. That same energy was able to permanently injure Hive, doing the job that guns and other conventional weapons couldn't. Even better, the energy was capable of sucking out Hive's parasites in an Inhuman's body, and because there was still a little bit of Andrew left in Lash, he freed Daisy from Hive's control.
This was a great moment of redemption for Lash, but alas, it was also a brief one. Soon after getting Daisy aboard to plane, Lash was impaled by Hellfire's burning chain. Daisy was able to repel him and Hive's other minions with her vibrational powers and escape on the plane, but by that point, it was too late for Lash, and he succumbed to his wound. Lash spent Season 3 as a supporting villain, and while it's still reprehensible how he killed those other Inhumans in episodes past, his last action was saving someone his other self cared for, thus giving him a noble exit.
While Lash died a heroic death, this also means that S.H.I.E.L.D. is once again without a weapon to use against Hive. He's still alive, and now that Holden Radcliffe, the scientist working for Hive, has found a way to turn humans into primitive Inhumans, Hive is now moving to the next stage of his plan: releasing this contagion over the population using a stolen warhead. As for Daisy, she's back at the S.H.I.E.L.D. base and confirmed to be free from Hive's influence, but it may be a long time before the team trusts her like they once did.
Agents of S.H.I.E.L.D. Season 3's two-part finale airs next Tuesday at 9 p.m. EST on ABC.
Your Daily Blend of Entertainment News
Connoisseur of Marvel, DC, Star Wars, John Wick, MonsterVerse and Doctor Who lore. He's aware he looks like Harry Potter and Clark Kent.
Your Daily Blend of Entertainment News
Thank you for signing up to CinemaBlend. You will receive a verification email shortly.
There was a problem. Please refresh the page and try again.