Man's Dead Wife Shows Up On Television Alive, Much To His Surprise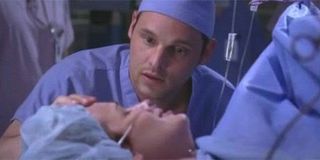 TV often offers opportunities--like water cooler moments--to bring fans together. However, it's not often that TV shows bring couples back together after one has been pronounced dead. That's exactly what happened when a man learned his wife had appeared on the series Al Mujitafun (Disapppeared). Formerly, he had believed she died in a car accident two years ago. You can't make this stuff up.
Two years ago, Abragh Mohamed was in a car accident with his wife in Morocco. His wife was rushed to the hospital for serious injuries, and doctors at the time told Abragh Mohamed that she probably was not going to survive. Despite this, the bill needed to be paid, and Mohamed traveled the four hours home to retrieve the cash to pay the hospital. Upon returning to Morocco, he was told his wife had died. Her body was wrapped in a shroud and delivered back to his home in Azilal, where she was buried, only the body buried was apparently someone else's.
Two years later, during an episode of Al Mujitafun, Mohamed's friends heard a woman's voice who sounded remarkably like Mohamed's wife. She explained that she had not, in fact, died at the hospital two years earlier. On the show, she gave her husband's name and former address. Abragh Mohamed's friends broke the news to him, explaining that the body that had been given to him to bury must not have been his wife's body.
According to the Mirror, the husband had the following to say about the experience:
The outlet is theorizing that this is a memory loss sort of case, which would explain why it could have taken two years for the woman to locate her husband. If so, this is like a real-life Grey's Anatomy case. Remember when Ava showed up at the hospital and didn't know who she was? She embarked on a romance with Alex only to learn later that she was married and was really named Rebecca. This is kind of like that, only sans a pregnancy and plus an unscripted TV show.
Since many of us have lived ordinary lives without anything extraordinary happening, this is a great reminder that wacky stuff is happening all around us, and will continue happening moving forward. Weird moments occur on TV all the time, but a man finding out his wife is not dead via a reality show has to be a first.
If you want to read about other weird happenings, be sure to check out the dude who definitely disappeared into a sinkhole. Or the local news crew that was robbed live on the air.
Your Daily Blend of Entertainment News
Reality TV fan with a pinch of Disney fairy dust thrown in. Theme park junkie. If you've created a rom-com I've probably watched it.