Man Vs. Wild Premiere Preview: Jake Gyllenhaal and Bear Grylls Take On Iceland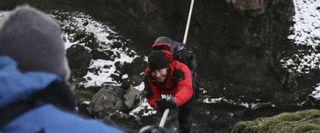 Only a couple weeks ago, The Discovery Channel announced that Donnie Darko would be making a special guest appearance on the premiere episode of Man vs. Wild. That's right, Jake Gyllenhaal will be joining Bear Grylls on a trek through the treacherous wilderness of Iceland. Wonder how Jake will fare? Well, this trailer offers us a brief glimpse and it looks like he's having a whole lot of fun.
This marks the second time Bear gets celebrity company on the show as Will Ferrell made a guest appearance last year while promoting his Land of the Lost flick (transforming it from Man vs. Wild toMen vs Wild). The funnyman quickly turned serious when he was confronted with the sheer terror of mother nature and luckily for him, he had Bear to see him through. I mean, the dude's name is Bear, how much tougher can you get?
Gyllenhaal is known for his athletic pursuits (often riding through the Hollywood Hills alongside his good friend Lance Armstrong) but Man vs. Wild is a horse of a different color. As far as Jake's appearance goes, Bear had these encouraging words to say about the Source Code star,
Here's the preview for what is the first of a six episode new season.
Man vs. Wild premieres Monday, July 11 at 9 p.m. ET/PT on The Discovery Channel.
Your Daily Blend of Entertainment News
Thank you for signing up to CinemaBlend. You will receive a verification email shortly.
There was a problem. Please refresh the page and try again.