Marc Cherry's Devious Maids Pilot Could Have A Second Chance At Lifetime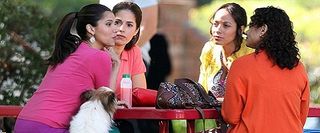 Desperate Housewives creator Marc Cherry's new project didn't make it over at ABC, where the pilot wasn't picked up this season – but it may have another chance to go to series. Talks are in the early stages to give Devious Maids a second chance over on Lifetime, which conveniently airs Housewives re-runs as well. The two could make a good combination.
Deadline says Lifetime is considering picking up the project, which is based on a Mexican format and follows the lives of four maids working in the homes of the rich and famous in Beverly Hills while trying to attain their own dreams. The pilot has ex-Housewives star Eva Longoria executive producing and stars Ana Ortiz, Dania Ramirez, Roslyn Sanchez and Judy Reyes as the four maids. Soap opera veteran Susan Lucci is also part of the cast.
Devious Maids seemed like it had a good shot over at ABC, which just said goodbye to Housewives after eight seasons and has a hole in its programming to fill for fans of the show. Maids didn't turn out to be that show – perhaps because it was a little too similar - but it does seem like it could be a good fit for Lifetime, which is already seeing success aiming for younger, sexier programming such as The Client List. Devious Maids isn't the only dropped project Lifetime is looking at. They're considering giving CBS' cancelled drama Unforgettable a new home and also eyeing some other pilots that didn't go to series this season.
Your Daily Blend of Entertainment News