Mark Burnett To Serve Up A Cooking Competition With A Twist With 'On The Menu' For TNT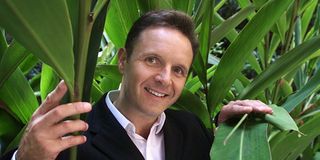 If there's a down side to watching all of those cooking shows that air on the various cable channels, it's that all of the delicious food being prepared by chefs -- amateur and professional alike -- are inaccessible to us through our television sets. We can look, but we can't taste. Leave it to Mark Burnett to find a way around that. No, he hasn't invented taste-o-vision, nor has he figured out a way to pass prepared foods through our TV screens and into our mouths. But his new series On the Menu will offer viewers a way to try the foods prepared on the show.
TNT announced today that they've greenlit the series, which they say is "television's first cooking show ever to give viewers the chance to taste the winning dish after every episode." Executive produced by Mark Burnett (The Bible, Survivor, The Voice), On the Menu will pair passionate home cooks with professional chefs to be challenged to create a signature menu item for whatever business is being featured in that particular episode. So it might be a chain restaurant, a stadium concession stand, an amusement park eatery or a cruise line. Presumably, it's any place that has some kind of national reach -- or is visited by a lot of people -- and serves food. The winning dish will immediately go on the menu of that business, so viewers can try the food almost right away, assuming they're in range of wherever it's being served.
"On the Menu is a terrific concept, bringing together home cooks, professional chefs and popular eateries together in a competition setting, then giving viewers the chance to taste the winning dishes themselves," said David Eilenberg, senior vice president, unscripted development for TNT and TBS. "We are very excited to be working with Mark Burnett once again, especially on a show as fun and unique as On the Menu."
It's an interesting concept, especially when we consider the benefits of it from multiple perspectives. Viewers get to taste the food, which essentially allows them to interact with this particular food program through the food. And since everyone eats, that works. And the businesses will likely benefit from the exposure the series will bring to their establishments, not to mention the draw of offering food specifically featured on the show. This kind of marketing plan reminds me a bit of another Mark Burnett reality show. On at least one occasion, The Celebrity Apprentice had a challenge that involved the creation of food that was later sold in stores. It's entirely possible this was done more than once during the series' run. In fact, I'm pretty sure it has, but the Ben & Jerry's ice cream challenge is the one that's specifically coming to mind. Teams had to create a flavor, which was then sold in stores, and the money made on both flavors factored into who won that particular challenge.
Of course, in this case, we can probably expect the food to expand beyond ice cream, but given the variety of food places set to be featured, there may be some sweet treats on the menu.
"We are excited to offer the viewer at home a unique opportunity to actually be part of our series," said executive producer Mark Burnett. "To be able to taste the winning dish the next day brings the series tangibly into the viewer's own life experience."
TNT doesn't have a set premiere date for this series yet, but they have ordered ten episodes and the plan is to get the show on the air sometime next year (2014), so have your appetites ready!