Masterpiece Already Looking To Get A New Drama From Downton Abbey Creator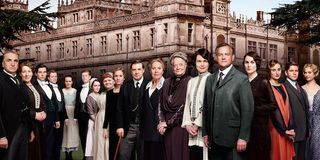 Downton Abbey is coming to an end after Season 6, so it seems fitting that PBS would already be hard at work, looking to line up its next Masterpiece drama. Now, we have learned that the network is currently in talks with Downton Abbey creator Julian Fellowes regarding another potential drama. So, fans of the above-mentioned series at least have something new for which to hold out hope.
While it is confirmed Fellowes has been in talks with PBS about another Masterpiece drama, there is not much information beyond that to go on. According to Deadline, Masterpiece chief Rebecca Eaton, who confirmed Downton Abbey will be concluding after Season 6, corroborated the network's discussions with the Downton Abbey creator but did not share further details on the potential future drama. PBS chief Paula Kerger made sure to note, however, that the discussions with Fellowes are not panic-related, as one might think due to PBS's top-rated program Downton Abbey coming to a close.
It was only days ago we learned PBS and ITV will not be renewing the cast's contracts for Downton Abbey; thus, the show will be ending after Season 6. With contracts coming to an end and the bulk of the main cast looking to depart the show, it would have been impractical to carry on with the series for another season. We knew something had to be up after Maggie Smith's mention last month that it would be her final season with the series. There have already been several actors and actresses who have exited the show, including Siobhan Finneran, Jessica Brown Findlay and Dan Stevens, but Smith's Dowager Countess, one of the Downton's long-running staple characters, would mark a pretty big loss for the series. But seeing the Crawley family's legacy come to an end isn't all sad; the show has achieved quite a bit over the years, not to mention landing several guest stars and a collaboration with none other than the handsome George Clooney.
So what could be in store for Fellowes as far as future projects with PBS? When asked about a possible Downton Abbey spinoff, Masterpiece's Eaton admitted "there have always been conversations" regarding a new show's potential, due to the nature of the business. The increased popularity of Downton Abbey brought back a renewed interest in period dramas on PBS, resulting in a strong pipeline of programming for the network, so we wouldn't be surprised to see another collaboration with Fellowes on that front.
It should be noted that Fellowes has received interest outside of PBS in the past. Approximately two years ago the writer/producer was reportedly in talks with NBC to develop an epic period piece set in the late 1800s. The project, titled The Gilded Age, aimed to tell the story of a princess of the American Renaissance who, in 19th-century New York, acquired and spent a mass of great wealth. It's been stuck in development ever since. A dramatic period piece featuring ultra-wealthy characters? I think this sounds right up Fellowes and his devout fans' respective alleys.
Your Daily Blend of Entertainment News
Thank you for signing up to CinemaBlend. You will receive a verification email shortly.
There was a problem. Please refresh the page and try again.