Maura Tierney, Marc Warren Join The Good Wife For Season 4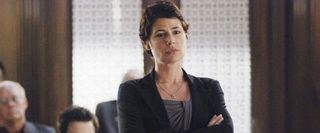 CBS' The Good Wife was pretty heated at the end of Season 3, with Peter Florrick sticking to his guns and running for governor and secretive Kalinda pulling out her own guns to wait for her manipulative (and estranged) husband to appear. We've a few months left to wait to see these plotlines pan out, but in the interim, The Good Wife has thrown some pretty interesting casting news in our direction.
Set to join the cast of the hit CBS law drama in Season 4 is actress Maura Tierney, who has earned up to a 10-episode arc on the show. TV Line is reporting The Good Wife will follow Tierney as a billionaire entrepreneur who will show up in the course of Peter Florrick's run for governor. Her character, Maddie, will prove to be important to politics in Chicago and earning her political sway could make or break the Florrick campaign. I personally just can't wait to see Eli running around and trying to work his smarmy charm on her.
TV Line is also reporting the show has finally cast Kalinda's husband…and the casting may not be exactly the type of person you were picturing. Honestly, I'm not even certain what I was picturing, but it wasn't British actor Marc Warren, who is set to join the show near the beginning of Season 4. I guess the 45-year-old—who is known in the States for Band of Brothers as well as a guest star on Doctor Who--does have the capacity to get a creepy asshole face on, so he should be able to capably play Kalinda's ex.
We may have a couple of months to wait, but next season's drama is looking as if it will be pretty explosive right off the bat. You can catch The Good Wife Sundays at 10 p.m. ET on CBS this fall.
Your Daily Blend of Entertainment News
Thank you for signing up to CinemaBlend. You will receive a verification email shortly.
There was a problem. Please refresh the page and try again.