Maybe Tori Won't Be On The New 90210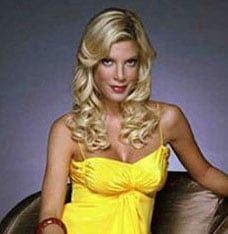 It seems that the debate over whether or not Tori Spelling will be joining the new 90210 has been decided. At least for now... According to Fox News , Tori and her people (and even the CW) would have you believe it's because she just had a baby. And, admittedly, having a new baby isn't easy on anyone.
But, Nikki Finke (of Nikki Finke's Deadline Hollywood Daily) reports that it's more about money than procreation. Apparently, "Tori was hired to reprise her role as fashion boutique owner Donna Martin for just "$10,000-$20,000" per episode. But then Jennie Garth and Shannen Doherty were signed for "$35,000-$50,000" a show. When Tori found out her former co-stars were getting paid way more than she was, she got pissed and demanded equal pay. But the network suits have refused."
Awww…poor Donna Martin. As if hooking up with her pal Kelly's stepbrother isn't bad enough, now she can't get a payday without her daddy signing the checks. It isn't like she needs the work anyway. She and Dean star in the most popular show on Oxygen, and I think she should keep it that way. I think it's semi-pathetic for a bunch of barely working actors to star in a spinoff of their show that was a success nearly twenty years ago.
Wow, I just realized that 90210 started that long ago. I was in 7th grade. Every day I am reminded that I am no spring chicken. Maybe Shannen, Jennie, Jason and Tori should remember that too.
Your Daily Blend of Entertainment News
Thank you for signing up to CinemaBlend. You will receive a verification email shortly.
There was a problem. Please refresh the page and try again.