Mercy's Taylor Schilling Lands Orange Is The New Black Lead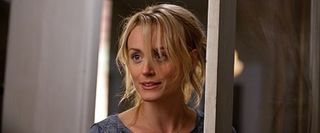 Weeds creator Jenji Kohan's new Netflix series Orange is the New Black has picked up its leading lady. The role has gone to Mercy star Taylor Schilling; she'll play a woman who finds herself in jail as the result of her relationship with a man involved in the drug trade.
The series is set to join a growing lineup of Netflix original programming as the streaming service moves into a whole new arena. They're gearing up to premiere long-awaited new episodes of Arrested Development and also have House of Cards, a thriller from Kevin Spacey and David Fincher, on tap for 2013. The pickup of Orange is the New Black brings over a proven hit-maker in Jenji Kohan, who brought Weeds to Showtime for an eight-season run ending this year.
Orange is the New Black is about a woman (Schilling) who winds up in jail thanks to her college boyfriend who was involved in drug running. Ill-suited to life in prison, as most of us are, she finds an odd sort of place for herself there and finds friendship an acceptance in her new orange garb and prison-mates. The series is based on the book by Piper Kerman.
Schilling is coming off her short-lived time on NBC's Mercy and has also done features including the film adaptation of Ayn Rand's Atlas Shrugged and The Lucky One opposite Zac Efron. She has a couple more films headed to theaters in the near future as well; Stay with Aidan Quinn and Argo where she appears alongside Breaking Bad star Bryan Cranston and Ben Affleck.
Your Daily Blend of Entertainment News
Your Daily Blend of Entertainment News
Thank you for signing up to CinemaBlend. You will receive a verification email shortly.
There was a problem. Please refresh the page and try again.