Michael and Michael Get A Show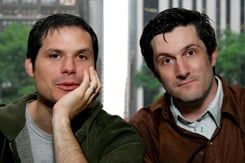 Back in the Golden Days of MTV, there was this clever little sketch comedy show starring a bunch of goofballs. It was called The State and it was my favorite show on TV. In an era of Tim "the Toolman" Taylor, it was a breath of fresh air. My parents used to try to keep me from watching MTV, 'cause ya know it rots your brain, right? But they couldn't comprehend a "music" channel playing anything but videos, so they never figured out that The State was on the "forbidden channel." My dad even sat down with me a couple of times and watched it.
Clearly, some of the members of the troupe are still working, Kerri Kenney, Robert Ben Garant and Thomas Lennon are Trudi, Junior and Lt. Dangle respectively on the fabulous Reno 911. And, every once in awhile I see other familiar faces make an appearance. Joe Lo Truglio, Ken Marino and Michael Ian Black, all from the original group, have all been on Reno. Thanks to Comedy Central, two of my favorites will be getting their own new show. Michael Ian Black and Michael Showalter will be starring in Michael And Michael Have Issues. Not much is known about the show. I noticed a blurb about it at the bottom of another article on EOnline . It was almost an afterthought for their real story, but for me it was the biggest news on the page. " The show-within-a-show supposedly chronicles the comical trials and tribulations the duo have with each other and the world at large." Sounds like an awesome show. This pair of comedic wizards can make anything funny.
As I said before, Black has been seen on Reno 911. He has played the character, Kevin the Sex Offender, but is better remembered as Chris, the guy with the terminal illness who made a lot of money through an internet sex site. Michael Showalter has appeared in a few things, but my personal favorite was The Baxter. He stars opposite Elizabeth Banks and Michelle Williams in this clever film about being the good guy who never gets the girl. Oh, and Michael Ian Black, Joe Lo Truglio, Ken Marino and David Wain (all of The State) have small parts in it too. Talk about sticking with your boys!
Your Daily Blend of Entertainment News
Thank you for signing up to CinemaBlend. You will receive a verification email shortly.
There was a problem. Please refresh the page and try again.