Mildred Pierce: The Collector's Edition Blu-Ray Review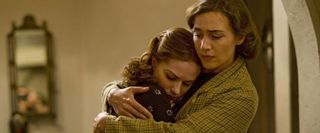 James M. Cain's 1941 novel, set in the Depression and the events thereafter, is a hardboiled melodrama about a woman who comes into her own but struggles with the prospect. In 1945, Michael Curtiz turned Cain's novel into a film noir mystery about a mother who devotes her life to a daughter who turns out to be a rotten egg. Why would Todd Haynes bother to return to the story, keep most of the author's ruminations, and forget the added mystery? It seems he felt he could squeeze a little life out of Mildred Pierce's characters and settings. In that way, Haynes largely succeeds.
Mildred Pierce employs an ensemble cast featuring the likes of Guy Pearce, with a thin mustache to match his rail-thin physique; Evan Rachel Wood, whom we get to see naked; Melissa Leo as a wise cracker; Mare Winningham as a wise worker; and an exhausted and exhausting Kate Winslet, who lands on the ballot as our own Mildred Pierce.
Let's talk for a moment about Mildred. At the beginning of Part 1 of the five-part miniseries, Mildred is a housewife with a knack for baking. She lives in California in a modest, middle class home with her husband and her two young girls, Veda and Ray (Morgan Turner and Quinn McColgan). Mildred's husband (Brian F. O'Byrne) seems a nice enough sort, for the most part honest and hardworking -- but oh, he's cheating on his wife.
It's 1933, and the job opportunities for an unskilled housewife are slim to none, but you have to give it to good 'ol Mildred here, who swallows her pride, kicks out her husband, and gives it a go as a working woman in the "unsavory" profession of waitressing. Mildred struggles, but for the first two portions of Haynes' miniseries Mildred's struggle is one of overcoming obstacles and finding success with a restaurant business of her own, through willpower, guile, and a little networking between the sheets. To her credit, Winslet makes this unglamorous and difficult work captivating, making us believe Mildred can do anything -- even if we know by the rules of melodrama things are bound to go south.
The last three parts of Haynes' miniseries chronicle the downfall of Mildred Pierce. For the most part, Mildred's faltering is due to her own poor decision making. Mildred uses men and is used by them, and her daughter, Veda, is a snake, yet she is stubbornly unaware not only of her treatment of others but also their treatment of her.
That brings us to Veda Pierce, first played by Morgan Turner as a bratty, class-obsessed vixen of a girl who plays at being grown up as often as she speaks with a falsified accent. Later, Veda is an anathema, portrayed by Evan Rachel Wood, a young, sexual thing who thinks nothing of anyone but relies on others to usher her ever closer to a popular success. Despite multiple warnings about her daughter, Mildred does not see these faults in her Veda until the very end. The last three parts are painful to watch, with Mildred again compounding bad decisions into worse ones until she has lost the life she built.
This may be the curse of the mother who will give up all for an ungrateful child, but it also means, in its final act, Mildred Pierce is as obsessed with the incorrigible Veda as it is with Mildred's downfall. This makes for an awfully slow storyline later, when some build-up of Veda's character is still needed to create push-and- pull momentum between her and her mother. Don't worry, though, if the length is too much, HBO, thankfully, has built in a written recap at the beginning of each segment to remind us of what came before.
As noted before, Haynes spends a lot of time with the details. Academy Award-winning designer Ann Roth was hired to work Winslet through sixty-six wardrobe changes during the series. The costumes and settings are magical windows into the Depression era, but it is almost more impressive to see parts of New York turned into southern California, a change that is well addressed in the disc's "Making of" featurette. What this segment doesn't focus on is the somber, silky soundtrack accompanying many scenes, with a gratifying clarinet that is able to distance us from the utter compelling fight for lifestyle Mildred Pierce relishes in.
Mildred Pierce is all about sad moments and triumphant moments, but very few happy ones. It provides us a window to peek into a certain worldview, but often that window does not show us anything much.
Length: 300 min.
Rated: Not rated
Distributor: HBO Home Video
Release Date: 1/03/12
Starring: Kate Winslet, Guy Pearce, Evan Rachel Wood
Directed by: Todd Haynes
Produced by: Todd Haynes, Pamela Koffler, Christine Vachon, John Wells
Written by: Todd Haynes, Jon Raymond
Visit the Mildred Pierce Official Website
Your Daily Blend of Entertainment News
Thank you for signing up to CinemaBlend. You will receive a verification email shortly.
There was a problem. Please refresh the page and try again.